Project Specific Encryption
Data security is always paramount to Dedoose. Dedoose employs the highest levels of data encryption available for a web application in all data storage, back up, and transmission. However, encryption keys are stored in Dedoose and this allows us to assist users in project recovery and offer other project specific supports when needed.
Some users – particularly those working in healthcare or other areas where the data privacy requirements imposed by organization, institution, or funding agency policies are exceptional – additional measures must be employed. This is where our Project Specific Encryption feature comes in.
Project Specific Encryption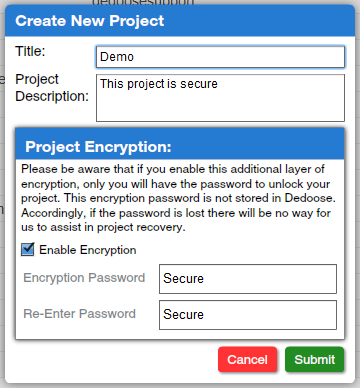 Dedoose is still a fully cloud-based solution, but this feature adds another layer of encryption for deeper data privacy where extraordinary sensitivities exist. When using this feature, you will hold an additional encryption key and you will need to enter your private key in order to view your project. This gives you exclusive control over who can view your project under any circumstances and all beyond the other Security Center settings you may have in place.
Cost: There is no additional charge for this premium feature and it can be easily activated when creating a new Dedoose project.
CAUTION: Only the project creator will have the key to decrypt project data. As such, there is no way for Dedoose support to assist in decrypting or recovering project data if the key is lost or forgotten.