Descriptor Sets
A 'Descriptor Set' is a categorization tool to group descriptors that are related via a shared unit of analysis. Most studies only require one Descriptor Set - the default set that comes preloaded in Dedoose. Multiple descriptor sets are created and/or useful when different surveys have been used to collect data, or when Descriptor Fields are associated with different units of analysis. For example, if you are collecting data from communities and individual participants, you may want to use 2 Descriptors Sets - one for each unit of analysis of communities vs individuals - to distinguish between the two.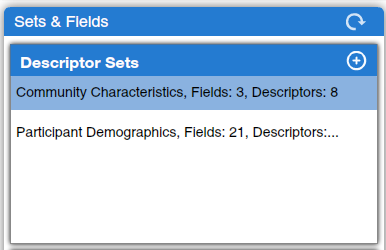 Reminder: Many studies only require one Descriptor Set (the default that is preloaded in Dedoose). However, you can additional sets if it is helpful to distinguish between various units of analysis as exemplified above.
Add a New Descriptor Set
Click on the Descriptors tab to go to the Descriptors Workspace

Click the "Add Set" addition icon in the Descriptor Sets panel

Add a title for your new set and hit submit
Delete or Edit a Descriptor Set
Hover your mouse over the descriptor set you wish to delete

Select the "Edit" icon that pops up on the right side

Edit the set or select "Delete"